BEBON > Selling list > - JIS G4304 SUS309S HR Stainless Steel Coil
JIS G4304 SUS309S HR Stainless Steel Coil
JIS G4304 SUS309S HR Stainless Steel Coil
JIS G4304 SUS309S stainless steel coil is hot rolled. SUS 309S HR stainless steel coil is containing sulfur free cutting stainless steel, for the main requirements cutting and table.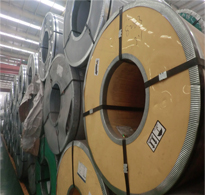 SUS309 stainless steel coils are highly corrosion resistant and have outstanding resistance to oxidation, and excellent heat resistance while providing good strength at room and elevated temperatures . Besides, JIS SUS309S HR coil has a much less carbon composition which minimizes carbide precipitation and improves weldability.
Surface finishes: BA surface, 2b, No.1 (white), 2D surface, No.4 (scrub), HL (drawing), 8K surface with excellent surface quality and brightness good
Gauge: thickness 0.20mm-14.0mm; width: 800mm-1550mm
Application scope: petroleum, electronics, chemical, pharmaceutical, textile, food, machinery, construction, nuclear power, aerospace, military and other industries. The quality management: ISO9001: 2000 quality management system certification, production licenses and other.
If you are looking for JIS SUS309S hot rolled stainless steel coil, please send email to [email protected].