BEBON > Product > - 3/4" Stainless 17-4PH Annealed Steel Plates
3/4" Stainless 17-4PH Annealed Steel Plates
3/4" Stainless 17-4PH Annealed Steel Plates
3/4" stainless 17-4PH annealed steel plates are made up primarily of iron. 3/4" stainless 17-4PH annealed steel also contains significant levels of chromium (up to 17.5 percent), nickel (up to 5 percent), copper (up to 4 percent) and manganese (up to 1 percent). Columbium, tantalum, carbon, phosphorus, sulfur and molybendum may also be present in trace amounts.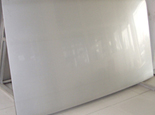 17-4PH annealed stainless steel is available in sheet, strip, plate, bar, and castings. Complete welded assemblies involving components of these various forms are possible. Its unique combination of properties make this alloy an effective solution to many design and production problems.
3/4" 17-4PH Annealed Stainless Steel Stock Size:
Plates: inch: 1/4", 1/2", 3/4", 1-1/4", 1-1/2",2", 3", 4", 5", 6"
Gauge: 2 gauge, 3 gauge, 5 gauge, 6 gauge, 8 gauge, 10 gauge, 12 gauge, 15gauge, 20gauge
3/4" 17-4PH annealed stainless steel plate is a martensitic precipitation-hardening stainless steel that provides an outstanding combination of high strength, good corrosion resistance, good mechanical properties at temperatures up to 600°F (316°C), good toughness in both base metal and welds. Short-time, low temperature heat treatments minimize warpage and scaling.
Stainless 17-4PH Annealed plate/sheet has excellent resistance. It withstands corrosive attack better than any of the standard hardenable stainless steels and is comparable to Type 304 in most media. This has been tested in a wide variety of corrosive conditions in the petrochemical, petroleum, paper, dairy and food processing industries, and in applications such as boat shafting. Additional proof of its durability is the replacement of chromium-nickel stainless steels and high-alloy non-ferrous metals by Annealed 17-4PH stainless steel for a broad range of parts requiring excellent resistance to corrosion.