BEBON > Selling list > - Stainless Steel 904L Coil Supplier
Stainless Steel 904L Coil Supplier
Stainless Steel 904L Coil Supplier
Nickel alloy 904L
is an austenitic stainless steel group. 904L has high molybdenum and extremely low carbon content. Copper content in the alloy greatly improves resistance to strong reducing acids, especially sulphuric acid. Stainless steel 904L has better resistance chloride attack against both stress corrosion cracking and crevice/ pitting corrosion.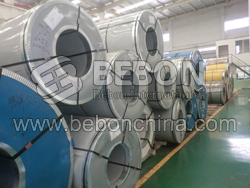 As a
stainless steel 904L coil supplier
, Bebon will produce and export stainless steel 904L coils and stainless steel 904L sheets with large quantity. We also offer stainless steel 904L coil with coating, drilling and galvanizing service.
Characteristics:
With excellent weldability and formability, 904L also maintain non-magnetic in all condition. 904L provides excellent toughness, even down to cryogenic temperatures with its austenitic structure.
Also known as UNS N08904, these 904L Stainless Steel are used in various applications such as Process equipment in chemical industry, Petrochemical industry, Bleaching equipment in the pulp and paper industry, Flue gas cleaning, and others.
Specification:
Standard: STM, ASME
Dimensions: A 240, SA 240
Thickness: 0.30mm-14mm
Grade: Stainless steel 904L Sheets & Plates
Finish: Hot rolled plate (HR), Cold rolled sheet (CR), 2B, 2D, BA NO(8), SATIN (Met with Plastic Coated)