BEBON > Selling list > - SA213 TP347 SS Schedule40 Welded Pipe
SA213 TP347 SS Schedule40 Welded Pipe
SA213 TP347 SS Schedule40 Welded Pipe
SA213 TP347 Schedule40 welded stainless steel pipe is suitable for many applications like welded construction and parts subjected to heating in the carbide precipitation range, aircraft collector rings, aircraft exhaust stacks, boiler casings, cabin heaters, pressure vessels, heat resistors, heavy wall welded equipment and welded tanks.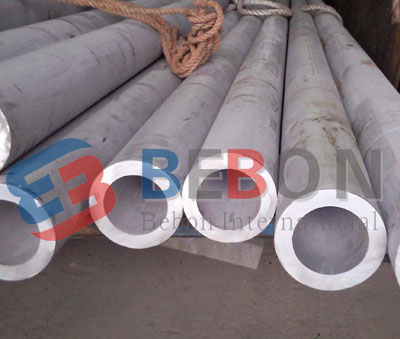 SA213 TP347 SS Schedule40 welded pipe
is onsale. Bebon will offer SA213 TP347 SS Schedule40 welded pipes with cutting, coating, drilling, beveling, machining and welding service. SA213 TP347 SS welded pipe is used primarily in high temperature applications where high resistance to sensitization is essential, thereby preventing intergranular corrosion at lower temperatures.
SA213 TP347 SS Welded Pipe Specification
Inter Diameter Size Range: ½ in. NB to 24 in. NB
Wall Thickness: Schedule 5S- Schedule XXS
Test and Inspection:
Mill Test, Third Party Inspection, Mechanical Testing, Visual Inspection, PMI Test, Nondestructive Test
Heat exchanger
High temperature steam service
High temperature chemical process