BEBON > Selling list > - JIS SUS 305 Stainless Steel ,JIS SUS 305 spot
JIS SUS 305 Stainless Steel ,JIS SUS 305 spot
JIS SUS 305 Stainless Steel ,JIS SUS 305 spot
JIS SUS 305 Stainless Steel is an austenitic chromium nickel stainless steel that can be cold worked and deep drawn more readably than Type 302 and Type 304 due to an increased nickel content that decreases the work hardening rate of the material. It is nonmagnetic and cannot be hardened by thermal treatment.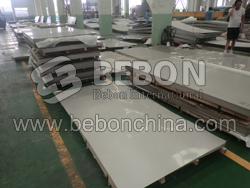 JIS SUS 305 Chemical Composition
C 0.12
Mn 2.00
Si 1.00
Cr 17.0-19.0
Ni 10.5-13.0
P 0.045
S 0.03
JIS SUS 305 size:
Thickness :0.3-30mm
Width :1000mm, 1219mm, 1500mm, 2000mm or as request
Length :1500mm, 2438mm, 3000mm, 6000mm or as request
JIS SUS 305 Packaging :
Standard export sea-worthy packing,Kraft paper+wooden/metal pallet+steel strip or as required
JIS SUS 305 Technique :cold and hot rolled
JIS SUS 305 Surface : 2B, BA, 8K, HL, 2D, NO.3 , NO.4 , Golden 8K, Black 8K etc.
JIS SUS 305 Application :Be used in architecture and engineer structure ,industry ,etc
we keep more than 10000 ton JIS SUS 305 spot every month , any need in JIS SUS 305 stainless steel price , please contact us!