BEBON > Selling list > - Introduction of 2507 Duplex Stainless Steel
Introduction of 2507 Duplex Stainless Steel
Introduction of 2507 Duplex Stainless Steel
Material 2507 is duplex stainless steel, equivalent S32750.
2507 duplex stainless steel
is molybdenum chromium alloy by 25%, 25% and 7% of nickel.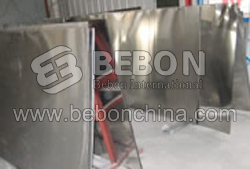 2507 duplex stainless steel is mainly used in chemical processing, petrochemical and underwater equipment. Its strength and corrosion resistance is stronger. Material 2507 has stronger ability to resist chloride corrosion,high thermal conductivity and low thermal expansion coefficient. High chromium, molybdenum and nitrogen content in it have a high resistance to corrosion pitting corrosion, gap and the ability to uniform corrosion.
2507 duplex stainless steel physical properties
density: 7.8g/cm3
hardness max. : 32 HRC
Melting point : 1390-1455 degree
Tensile strength min.: 800 MPa
yield strength min.: 550 MPa
elongation A(%) max: 15
Product form:
2507 duplex stainless steel coil, steel pipe, hot rolled steel plate, flange, seamless steel pipe, bar
2507 duplex stainless steel application:
1. Oil and gas industry equipment;
2 This offshore platforms, heat exchanger, underwater equipment, fire fighting equipment;
3 Chemical processing industry, the vessel and pipeline industry;
4 Desalination plants, high pressure RO plants and submarine pipeline;
5 Mechanical components (high strength, corrosion resistant parts);
6 Pictures of the energy industry of FGD systems, industrial washing, absorption tower.