BEBON > Selling list > - 321 Stainless Steel Plate Mill, SS321 Plate 2B Finish
321 Stainless Steel Plate Mill, SS321 Plate 2B Finish
321 Stainless Steel Plate Mill, SS321 Plate 2B Finish
321 stainless steel
is a standard austenitic 18/8 chromium nickel alloy with the addition of Titanium. SS321 is the grade of choice for applications in the temperature range of up to about 900°C, combining high strengthl resistance to scaling and phase stability with resistance to subsequent aqueous corrosion.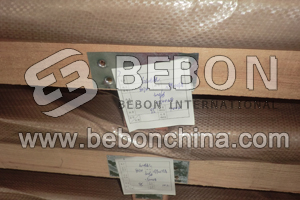 SS321H is a modification of 321 with a higher carbon content, to provide high temperature strength.
A limitation with SS321 is that titanium does not transfer well across a high temperature arc, so is not recommended as a welding consumable. In this case, SS347 is preferred-the niobium performs the same carbide stabilization task but can be transferred across a welding arc.
Heat treatment
: annealing-heat to 950°C to 1120°C and cooling rapidly for maximum corrosion resistance. Stabilizing-heat to 870 to 900°C for one hour per 25mm of thickness and air cool. Stabilization is recommended for most severe service. Conditions(about 425°C) and particularly for material annealed at the upper side of the annealing temperature range. Stress relief- heat to 700°C for one to two hours and air cool. SS321 can not be hardened by thermal treatment.
SS321 stainless steel is an ideal choice for the construction of performance headers. It is widely used because of its ability to withstand corrosion.
As a large 321 stainless steel plate mill in China, Bebon will offer
SS321 plate 2B finish
with large stock. Welcome to inquiry.