BEBON > Selling list > - 304 SS Annealed Plates China Supplier
304 SS Annealed Plates China Supplier
304 SS Annealed Plates China Supplier
304 stainless steel plate
is in accordance with the United States ASTM standards produced by a grade of stainless steel like ASTM A240/ASME SA240. 304 equivalent to China's 0Cr19Ni9 (0Cr18Ni9) stainless steel.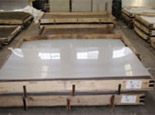 304 SS
is the most widely used stainless steel, heat-resistant steel. Food production equipment, chemical equipment, nuclear energy, etc.
304 stainless steel plate has good corrosion resistance and good corrosion resistance. On the oxidation of acid, obtained in the experiment: concentration is less than or equal to 65% of the boiling temperature below the nitric acid, 304 stainless steel plate with a strong resistance to corrosion. The alkali solution and most organic acid and inorganic acid also have good corrosion resistance.
304 materials appear rusty phenomenon, may have the following reasons:
1. The use of the environment in the presence of chloride ions. Chloride ion widespread, such as salt, sweat trace, sea water, sea breeze, soil, etc.. Stainless steel in the presence of chloride ion environment, corrosion is very fast, even more than ordinary low carbon steel. So the use of stainless steel in the environment is required, but also need to regularly wipe, remove dust, keep clean and dry.For example: a company with a oak container a chlorine ion in the solution, the container has been used for hundreds of years, last century 1990s plans to replace, because oak enough modern by stainless steel replaced after 16 days container due to corrosion leakage;
2. No solid solution treatment. Alloy elements dissolved into the matrix, the matrix microstructure of low alloy, poor corrosion resistance;
3. This does not contain titanium and niobium materials have a natural tendency to intergranular corrosion. The addition of titanium and niobium, and then with stable treatment, can reduce the intergranular corrosion;