BEBON > Selling list > - 301 1/2 Hard Stainless Steel Sheet and Strip
301 1/2 Hard Stainless Steel Sheet and Strip
301 1/2 Hard Stainless Steel Sheet and Strip
301 grade stainless steel sheet/ strip
is available in annealed, 1/2 Hard, 3/4 hard, and full hard. They are all supplied in cold rolled. The difference among them is the tensile strength. The tensile strength of 301 1/2 Hard stainless steel is 150ksi min.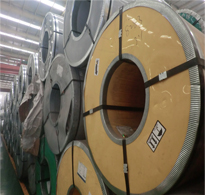 Grade 301 is a 17% Chromium / 7% Nickel austenitic stainless steel. It is supplied in a range of different conditions/tempers depending on the level of strength required. It has good resistance to atmosphere corrosion and its bright attractive surface make it an excellent choice for decorative structural applications.
Resistance to Corrosion and Oxidation:
Grade 301
has good resistance to oxidation at temperatures up to 1550°F, but is not recommend for use above 1600°F. 301 is resistance to a variety of corrosive media. However, it's corrosion resistance properties are not as good as the 18-8 chromium-nickel steels and its susceptibility to carbide precipitation during welding restricts its use in many applications in favour of 304/304L alloy. The mechanical properties for the different tempers of 301 are obtained by cold working and not by heat treating. 301 1/4 Hard (AMS 5517) material has a miniumum tensile strength of 125ksi and is used in the fabrication of parts that require moderate drawing or forming.
SS 301 1/2 Hard is available in sheet and strip. View stock list for further information for our sales.
Bebon will be your reliable partner for
SS 301 1/2 Hard
. Welcome to inquiry.