BEBON > Product > - 316L stainless steel, 316L stainless steel Mechanical Properties
316L stainless steel, 316L stainless steel Mechanical Properties
316L stainless steel, 316L stainless steel Mechanical Properties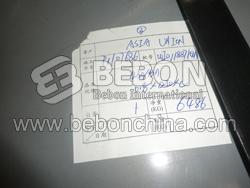 Our company, bebon professionally sells ASTM 316L stainless steel with the lowest price. We can produce many kinds of 316L, such as 316L steel plate, 316L steel pipe, 316L profile steel, 316L square/rectangle hollow section and 316L bars, ect.
316L stainless steel characteristics:
1, Cold rolled product outward appearance is luster and beautiful.
2,Due to add Mo, corrosion resistance, especially the resistance to pitting corrosion performance is excellence.
3,Excellent high temperature strength
4,Excellent processing sclerosing (weak magnetic after processing)
5,Non-magnetic in Solid solution state.
6,The price is higher than 304 stainless steel.

316L stainless steel chemical composition:
Grade

C

Mn

Si

P

S

Cr

Mo

Ni

N

316L

Min

-

-

-

-

-

16.0

2.00

10.0

-

Max

0.03

2.0

0.75

0.045

0.03

18.0

3.00

14.0

0.10

316L stainless steel mechanical property:
Grade

Tensile Str
(MPa) min

Yield Str
0.2% Proof
(MPa) min

Elong
(% in 50mm) min

Hardness

Rockwell B (HR B) max

Brinell (HB) max

316L

485

170

40

95

217

BEBON STEEL can offer a lot of 316L stiainless steel, otherwise, including 316L chemical composition and 316L mechanical propertity. If you are interested in 316L stiainless steel, please contact BEBON STEEL.

Tags: ASTM A240 316L Austenitic Stainless Steel, ASTM A240 321 Austenitic Stainless Steel, ASTM A240 310S Austenitic Stainless Steel